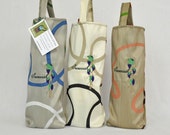 Can't think of a better gift than a custom embroidered wine bottle gift bag - with a great bottle of wine inside, of course!
I imagine how I would feel, receiving a bottle of wine (or whatever) and kind of thinking, ok, this is nice, then noticing a wonderful romantic something - poem, sentiment, saying - on the bag, personalized for me. That would be a really special gift.
Click Here to Visit My Etsy Shop!