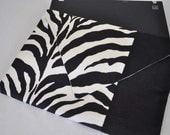 This padded laptop sleeve is made from a black-and-white zebra print cotton asymetrically sewn to a black jacquard fabric. The envelope-style flap closes with a bit of velcro. Very striking.
The sleeve is lined in white cotton and padded with reused packing material - sturdy, light, and water-resistant. The flag label states that it is designed and (lovingly) made in the USA. All 3 fabrics are 100%...
Click Here to Visit My Etsy Shop!